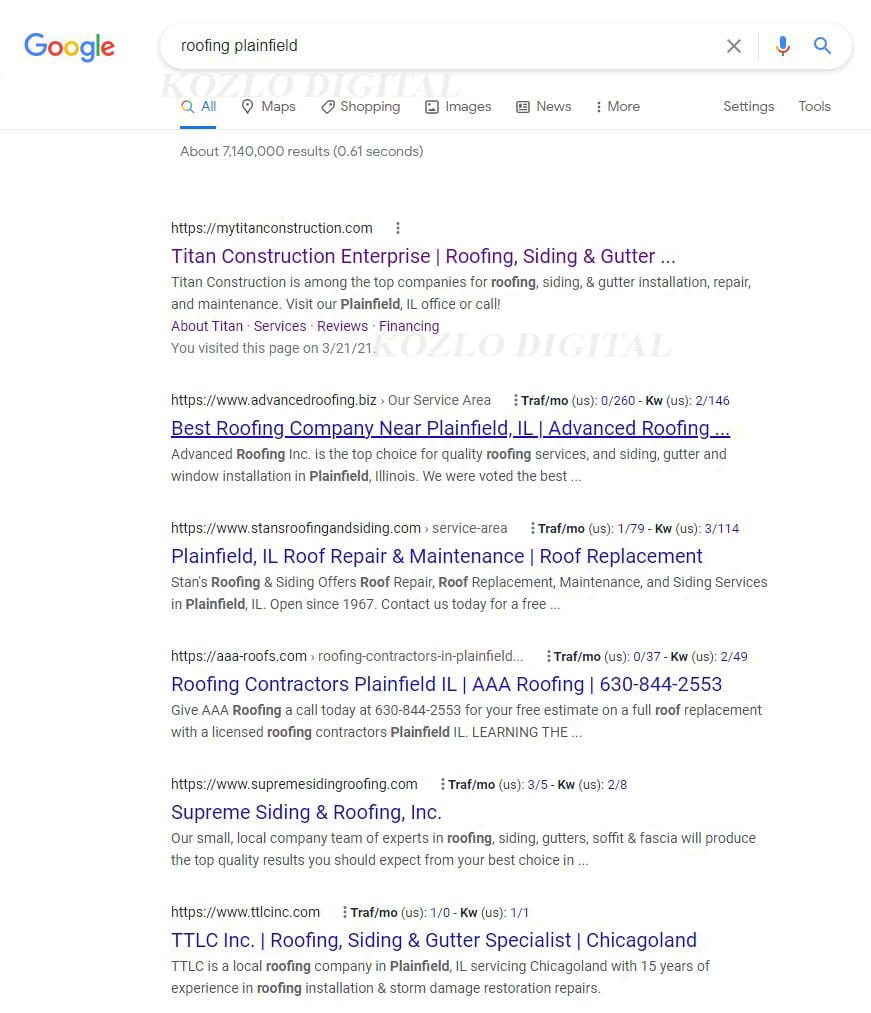 Local SEO Services in Naperville
As a leading SEO company in Naperville, we help your business website gain online visibility and increase sales leads.
We craft custom SEO strategies that work best for your business and push you at the top of the search engine rankings.
Our client trusts us because we are result-driven.
No shortcuts and no black hat SEO tactics! We employ the best knowledge and expertise in digital marketing to attract high-quality organic traction that converts for your local business.
What you get from us is value for your investment in SEO in Naperville. Big or small, Kozlo Digital is happy to help.
At Kozlo Digital, We implement on-page SEO strategies— keyword research website, website optimization, content writing/marketing, optimizing URLs, images, and more.
We boost your brand credibility by earning high-quality backlinks from authoritative websites, guest blogging, influencer marketing, social media marketing and more.
Local SEO
We work on local search citations, Google My Business optimization, online reputation management, website optimization for local keywords and more.
Building an online store is not enough. Guarantee that it gets regular traffic with our SEO services— site architecture, keyword research, schema markup, pagination, and more.
Frequently Asked Questions
1. Can I do SEO on my own?
Of Course, you can. If you have adequate time to gain the knowledge and technical expertise to make your website SEO-friendly.  Unfortunately, most business owners do not enjoy this luxury and have to outsource their SEO services in Naperville.  While you focus on running the business, we work hard to put your website at the top of the search engine pages.
2. When can I expect improvement in my website ranking?
There is no fixed time for that. We take immense pride in our SEO services in Naperville but the results do not come overnight or it may take weeks, months. For that matter, no SEO company in Naperville or any other country can guarantee you assured results. It takes a good period of time for your website to gain the online momentum and establish its presence on the 1st page of the popular search engines.
3. Can't my website's rank increase on its own?
Yes it can if your website is professionally managed by a reliable SEO company in Naperville like Kozlo Digital.  Do understand that SEO is a long-term SEO strategy that will take its natural time to deliver credible results. 
4. Can you customize an SEO package for my business?
Get Started
We specialize in helping contractors grow their presence online. We are proud to say that we have been named the best SEO companies for contractors. Our results show that we can get you to the first page in Google, and we can do it quickly. It is a well-known fact that it can take years to rank on page 1 on Google. We have achieved this in less than 7 months before and can do it again.
Leave us a message and let's work together!