Google, Facebook, Yelp, and lots more!
Get More
5 Star Reviews! 
Monitor what others say about your company
Promote trust in your brand
Suppress and address negative results

CHICAGO ONLINE REPUTATION MANAGEMENT
Take control of your online business reputation with Online Reputation Management (ORM) with a full team behind you and our automated software that gets you more 5 star reviews easily and quickly.

Increase Positive results
Promote your positive results and get new potential customers when they read your reviews from past clients by building a positive reputation online.

Overcome negative results
Push negative results down and direct your customers to a contact form instead of a review when they choose 3 or less stars
Send us your customer list.
That's it.
We take care of STEP 2.
Here's what you'll get
You get the full power of a top-rated Online Reputation Management (ORM) behind you and our automated software that gets you more 5 star reviews with ease.
AUTOMATIC REVIEW INIVITES
You will get an unlimited amount of text messages and emails that are sent to your customers automatically to review your company.
IMPROVED SEARCH ENGINE PRESENCE
The more reviews you have the more Google will want to show you to local customers looking for the service you provide.
EASY TO START Review Templates
Send personalized messages or make it easier with customizable templates to your customers. We can even set them for you!
CHOOSE WHERE YOU WANT REVIEWS
Choose up to 5 different review sites and we will direct your customers there with one click. This makes them 60% more likely to write a review!

GATHER MORE
Let us take care of the grunt work and even automate the process.

MANAGE BETTER
One-click and you will be able to respond to any review.

ANALYSE EASIER
View your company's reputation at a glance with easy reporting.
Start building your online reputation faster than ever
Choose the introductory package that suits your needs.
Save time with automation
Completely hands off setup
NO CONTRACT,
CANCEL ANYTIME!
Get the full power of an expert online reputation management team!
KOZLO DIGITAL REVIEWS INTEGRATES WITH

Kozlo Digital is the best when it comes to web development. They built my company in New Lenox a website and launched SEO as well as an email marketing campaign. I would highly recommend using them to boost your digital presence.

Kyle helped create our website and helped us tremendously with our marketing. Hats off to Kozlo Digital for building us a brand new landscaping website and getting us more jobs than we can manage. We ended up having to hire 2 new project managers! Big shout out to Kyle and the Kozlo Digital team.
Connect to
ANY

review site

According to a study conducted by Search Engine Land,
72% of customers trust online reviews as much as recommendations
from real people. Make it easy for customers to trust you.


Customizable Tools
Customize your Brand's Messaging
Website Widget
Customizable Dashboard
Easy Emailing

Expand Your Reach
We integrate with every review site
Reach clients via text
CRM and POS Integrations
Review Kiosk Option

Get Noticed
Multiple Locations
Social Media Sharing
Directory Page
Done for you SEO

Expanded Details
Easily Generate Leads
In-depth Reporting
Dedicated Support
Review Monitoring & Instant Notifications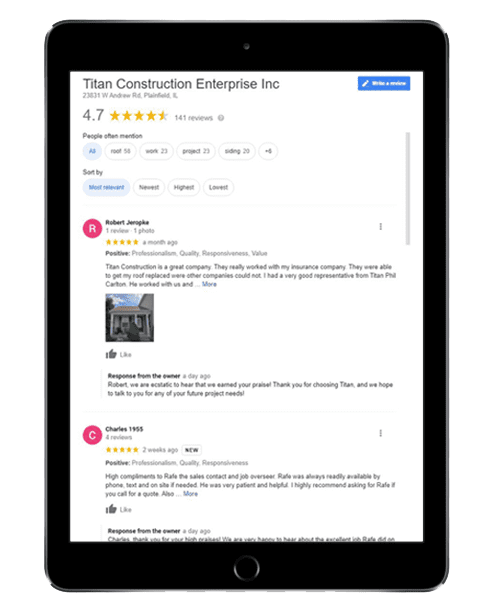 Titan Construction is a well-known company in the southwest suburbs of Chicago. However, their reputation was in trouble because only unhappy customers would leave reviews. 
While negative reviews are inevitable for any business an easy way to drown out the bad reviews is with tons of great reviews!
WHAAT IF I WANT REVIEWS SOMEWHERE BESIDES GOOGLE?
No problem! We connect with nearly any review site on the internet!
Can I unsubscribe at any time?
Simply put… Yes! There are no contracts or long-term commitments whatsoever! 
Do you offer any discounts?
In order to offer discounts, we would need to comprise the quality of our service and software. So the short answer is no, we cannot. But feel free to send us a message to see if we can help somehow!
DO YOU CONNECT WITH MY CRM?
Chances are we do! However, feel free to reach out to us with your CRM name just to make sure.
A note from the CEO / Founder / Human Being
There are so many incredible small businesses out there that struggle just to stay open. Even when their service, quality, and price are perfect. The reason they're struggling is due to the cold truth that no one knows how unbelievably great this small business is!
That is where our online reputation management service comes in. We couldn't stand to see great businesses fail because the world didn't know how fantastic these people truly are.
Our team of reputation management experts has developed a system that helps great businesses grow beyond the owner's wildest dreams. It is my hope that small business owners who do great work will choose to work with us so we can help let their customers not only find them but trust them as well.
Our top client has generated over 90 reviews in just one month of using our service. Those reviews have created a 25% increase in traffic and a 16% increase in conversion rates. My hope is that we can help all the great small businesses in the world achieve the same results!
Chicago Online Reputation Management Company
We have helped companies get over 1,000 reviews and counting. You can count on us to build your reputation to where it should be.
The all-in-one automated reputation management team.
You shouldn't have to waste your precious time asking your customers for reviews. Let us do the heavy lifting and free up your schedule.